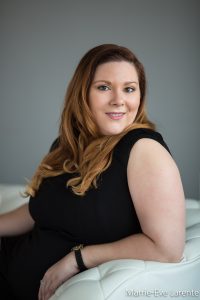 Lydia Gauthier is passionate about skin and how it interacts with skin care and its external environment. Her passion started when she was 18 years old and working as a cosmetician in a pharmacy. It was at this time that she became curious about the list of ingredients appearing on skin care products.
In 8 years, she completed her bachelor's degree in medicinal and bioorganic chemistry, her first master's degree in pharmaceutical research and tissue engineering as part of a research team focused on psoriasis and a secondary master's degree in industrial cosmetology from l'Institut de Pharmacie Industrielle de Lyon (IPIL) in France. This latter master's degree is now considered the number one academic program worldwide in cosmetology and dermopharmacy.
She therefore achieved her goal of becoming a Dermocosmetologist. In France, the title that is used is dermopharmacist. However, this role is not yet recognized in Québec. She shares her passion through her teachings and associated activities.
Following her studies, she worked for none other than the laboratories of Lise Watier as well the dermatological laboratory of La Roche-Posay as a trusted advisor and representative to dermatologists and doctors. Then, she started her own training, education and services business for companies in the cosmetics industry, academic institutions and beauty professionals to help them better understand the skin and its interaction with skin care products. She is also in charge of the development of courses at Université Laval which now offers the first cosmeceutical program in Canada.
Assist and train companies in the cosmetics industry and beauty professionals to help them achieve further growth.
With her expertise in dermopharmacy, Lydia Gauthier wishes to empower cosmeticians to be more attentive to customers and their specific skin care needs.
She aims to become the definitive reference in dermopharmacy training and development for cosmetics companies in Québec, so that we can all take better care of our skin!
Integrity
Honesty
Listening
Cooperation
Collaboration